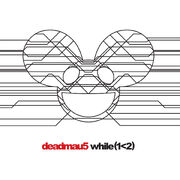 while(1<2) is the seventh studio album by deadmau5 . It was released digitally June 17, 2014 and physically released on CD on June 24, 2014. Many of the songs on the album were uploaded to deadmau5's SoundCloud account before they were removed from the site in early 2014.
Promotion
Edit
On January 7, 2014, deadmau5 announced on Twitter that his upcoming seventh album was completed. He also announced that it was a double album containing a continuous mix for each disc and that the album as a whole, minus the mixes, would contain 25 tracks. On May 10, 2014, while(1<2) was officially unveiled by deadmau5 through his subscription service live.deadmau5.com and also announced the album's digital release date of June 17, 2014 with a physical release on June 24. The album title is a reference to a computer programming language phenomenon known as an infinite loop, as well as a reflection of the two-disc nature of the album.
The first single "Avaritia" became available for purchase on May 20, 2014. One week later, the second single "Seeya", featuring singer Colleen D'Agostino from the band The Material, was made available for purchase on iTunes. On June 2, 2014, the third single "Infra Turbo Pigcart Racer" premiered on mau5trap's SoundCloud page. It was made available for download on iTunes and Beatport the next day. The album's fourth single, "Phantoms Can't Hang", was also premiered through SoundCloud the day before its release on iTunes and Beatport, which was on June 10, 2014.
Track Listing
Edit
Disc 1 (Unmixed)
1. Avaritia
2. Coelacanth I
3. Ice Age (by How to Destroy Angels) (deadmau5 Remix)
4. My Pet Coelacanth
5. Infra Turbo Pigcart Racer
6. Terrors in My Head
7. Creep
8. Somewhere Up Here
9. Phantoms Can't Hang
10. Gula
Disc 2 (Unmixed)
1. Acedia
2. Invidia
3. Errors in My Bread
4, Survivalism (by Nine Inch Nails) (deadmau5 Remix)
5. Silent Picture
6. Rlyehs Lament
7. Superbia
8. Mercedes
9. Bleed
10. Ira
11. Monday
12. A Moment to Myself
13. Pets
14. Coelacanth II
15. Seeya (feat. Colleen D'Agostino)
Disc 2 Best Buy bonus track
16. Petting Zoo
Digital bonus tracks (Mixed)
1. while(1<2) [Part 1]
2. while(1<2) [Part 2]
Ad blocker interference detected!
Wikia is a free-to-use site that makes money from advertising. We have a modified experience for viewers using ad blockers

Wikia is not accessible if you've made further modifications. Remove the custom ad blocker rule(s) and the page will load as expected.