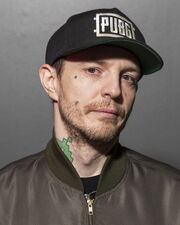 Joel Thomas Zimmerman
 (born January 5, 1981), better known by his stage name 
deadmau5
 (pronounced "dead mouse"), is a Canadian progressive-house music producer and performer from Toronto, Ontario.
Zimmerman produces a variety of styles within the house genre and sometimes other forms of electronic dance music. His tracks have been included in numerous compilation albums such as the 2007 In Search of Sunrise 6: Ibiza CD. The February 2008 issue of MixMag's music magazine included a free CD which was titled MixMag Presents: The Hottest New Name In Dance! DEADMAU5 Tech-Trance-Electro-Madness, mixed by Zimmerman. Tracks have also been included and presented on Armin van Buuren's A State of Trance radio show. His debut album, Get Scraped, was released in 2005, followed by others in the next few years.
As well as his own solo releases, Zimmerman has worked alongside other DJs and producers, such as Kaskade, MC Flipside, Rob Swire of Knife Party and Pendulum, Wolfgang Gartner, Bighorse, and on a number of releases, Zimmerman has partnered withMelleefresh. In 1999, an early 12" single produced on vinyl titled "I Don't Want No Other" was released by Joel Zimmerman under the alias "Dred And Karma". The 2006 album titled Deadmau5 Circa 1998–2002 was released using the alias "Halcyon441" and the collaboration with Joel Zimmerman and Steve Duda was under the alias "BSOD".
Early life
Edit
Zimmerman was born in Niagara Falls, Ontario. His mother, Nancy (née Johnson), is a visual artist, and his father, Rodney Thomas "Rod" Zimmerman, is a General Motors plant worker. He has two siblings, Jennifer (older) and Chris (younger). His ancestry includes German, Swiss, and English. He received his first keyboard for Christmas when he was a teenager. His career began in the mid 1990s, with a chiptune and demoscene movements-influenced sound.
The first remix he ever made was a remix to a song by a small band named "Revenge of the Egg People" named "I'm Electric". The remix was released in 2002.
In late 2012, an old demo track by Zimmerman from 1995 called "Can't Remember The Name" resurfaced on YouTube. He confirmed this was the first track he ever produced, but also said it never saw an official release.
deadmau5 logo
2005-2006: Get Scraped and self-released compilations Edit
Zimmerman released his debut studio album, titled Get Scraped on July 26, 2005. The tracks "Just Before 8bit", "Nice Try, Kiddo" and "Uploading and Downloading" from Project 56 were edited and expanded upon in Get Scraped under the names "8bit", "Try Again", and "Unspecial Effects", respectively. Tracks "Bored of Canada", "Intelstat" and "I Forget" reappear on this album as is, as well as "The Oshawa Connection" from deadmau5 Circa 1998–2002. In 2006, he released the album "Vexillology" under Play Records. The album title is named after the study of flags, and the style was techno, house, and experimental.
Three self-released compilations, Project 56, deadmau5 Circa 1998-2002, and A Little Oblique, were finished in 2006,[9] with Project 56 seeing an official release in February 2008.
2007–2008: Mau5trap label and Random Album Title Edit
In 2007, Zimmerman began his own record label "mau5trap", which, along with Ultra Records and Ministry of Sound, released the 2008 album Random Album Title, which saw the collaboration of Zimmerman and San Francisco producer Kaskade with "I Remember". Random Album Title, saw a digital release in September 2008 via Ultra Records in the United States and Ministry of Sound in the United Kingdom and Europe. Physical copies of the album were released in November 2008.
2009–2010: For Lack of a Better Name and 4x4=12

On September 22, 2009, Ultra Records released his album For Lack of a Better Name in the United States, and October 5 internationally. On a subsequent tour in the fall of 2009, Zimmerman's performances were recorded and made available for sale immediately following the concerts on USB wristband flash drives. For Lack of a Better Nameincludes two of Zimmerman's most popular songs, "Ghosts 'n' Stuff" (featuring Rob Swire) and "Strobe".
MTV named Zimmerman as the house DJ for the 2010 MTV Video Music Awards and MTV PUSH artist of the week on August 16, 2010. He expressed gratitude towards Lady Gagaand David Guetta for bringing dance into the pop music scene and paving the way for him to the mainstream. At the awards, Zimmerman performed with Jason Derulo andTravie McCoy. His song "Ghosts 'n' Stuff" had been featured on the soundtrack for the MTV reality series Jersey Shore earlier.
His fifth studio album, titled 4×4=12, was released on December 6, 2010 in the United Kingdom and December 7, 2010 in the United States. Singles "Some Chords", "Animal Rights", "Sofi Needs a Ladder" have been released and have been featured on the album, with "Raise Your Weapon" released in 2011. "Some Chords" was featured on an episode of CSI: Crime Scene Investigation where Zimmerman made a cameo appearance, and an instrumental version of "Sofi Needs a Ladder" was featured in the film The Hangover Part II.
2011–2012: Album Title Goes Here Edit
deadmau5 live and unmasked in Glastonbury in 2009
On August 9, 2012, Zimmerman announced his upcoming sixth studio album, Album Title Goes Here, which was released on September 24 of that year. Singles from this album include "Maths", "The Veldt" (featuring Chris James) and "Professional Griefers" featuring My Chemical Romance singer Gerard Way. This collaboration was announced on Facebook prior to release.[18] In December 2012, FUSE TVnamed "Professional Griefers" one of the top 40 songs of 2012
2013–present: Astralwerks, 7 EP, and while (1<2) Edit
In November 2013, Zimmerman deleted three years worth of music from his SoundCloud account, replacing them with an EP of seven melancholy piano sonatas (simply called 7), named after the Latin translations for the Seven Deadly Sins: "Acedia", "Avaritia", "Gula", "Invidia", "Ira", "Luxuria", and "Superbia".
Also in November 2013, Zimmerman signed with record label Astralwerks, the famed NYC-based imprint that houses artists such asSwedish House Mafia, David Guetta, and The Chemical Brothers. Speaking on the partnership, Zimmerman admitted, "I found a place that knows what to do with my music."
On January 7, 2014, Zimmerman announced via his Twitter account that his much-anticipated new album is complete. "In other news...i finished my album today," the tweet read. "2 discs. 2 continuous mixes. 25 tracks. and something im proud of."
On May 10, 2014, Deadmau5 announced through his subscription service live.deadmau5.com that his upcoming album will be titled while(1<2) and will be released on June 17, 2014.
The album was preceded by the release of four singles: "Avaritia", "Seeya" (featuring Colleen D'Agostino), "Infra Turbo Pigcart Racer" and "Phantoms Can't Hang". Starting on the week of May 20, 2014, each single was released weekly for a total of four weeks leading up to the release of the album.
2016 - W:/2016ALBUM/
Edit
On December 2, 2016, Deadmau5 released his eigth studio album, W:/2016ALBUM/, which referred to the location of the album on his computer. The album consists of tracks produced with a Prophet 10, a synth he said to have purchased prior to the album being released, also, tracks he had been working on during 2015-2016.
He also announced at the end of 2016 that he will be releasing a project containing tracks he produced in the late 90s/early 2000s. The projecting is looking to be released in early 2017, according to Zimmerman.
Video game appearances
Edit
Zimmerman is a playable avatar in DJ Hero 2, a video game released in October 2010. The game featured several tracks by the artist, including a mix of Ghosts 'N Stuff with Lady Gaga's Just Dance. He is also featured as a non-playable character in the 2014 video game Goat Simulator.
His music has been included in more video game titles, including Grand Theft Auto: Chinatown Wars, Saints Row: The Third, FIFA 13, Grand Theft Auto IV, Need for Speed: Most Wanted, Midnight Club: Los Angeles, GoldenEye 007, Wipeout 2048, The Sims 3, Asphalt 8: Airborne, and Sound Shapes.[citation needed]
Personal life
Edit
On July 30, 2010, at the 9:30 Club in Washington, D.C., Zimmerman collapsed on stage, suffering from exhaustion and vomiting. This resulted in the cancellation of the rest of the show, as well as nine shows following the event.
In 2010, he adopted a cat which he named "Meowingtons". The cat has become a trademark to a lot of the deadmau5 work. Deadmau5 even named his 2011 world tour "Meowingtons Hax 2k11" after his beloved cat.
Zimmerman began dating Lindsey Evans shortly after meeting her at the 2010 MTV Video Music Awards in September 2010. Evans eventually moved to Toronto to live with him. Zimmerman announced in September 2011 that the two had broken up.
In September 2012, Zimmerman began dating American tattoo artist and TV personality Kat Von D. After breaking up in November 2012, they shortly rekindled their relationship.[33] On December 15, 2012, Zimmerman proposed to Von D via Twitter, and they announced that they would marry in August 2013 with an aquatic-themed wedding. They both have several matching tattoos, including the numbers "289m3d22h" on both of their arms, which is sentimental to the day that they met, as well as two black stars underneath their eyes. Zimmerman moved to Los Angeles to live with Von D. In June 2013, Von D announced that they had ended their engagement.
In 2015, he purchased a multi million dollar mansion in Milton, Ontario, Canada. He claims to have had to build a giant connection tower along with the house, due to area he lived in being an area with little to no internet connection.
Origin of "deadmau5"
Edit
Deadmau5 at Coachella 2008.
Zimmerman's father claims that when his son was in his early teens, he was chatting with a friend on his computer, which then abruptly shut off. According to Zimmerman's father, he said that it had a smell like burnt wire and had a strange odor. Zimmerman started to dismantle his computer and happened to find a dead mouse. Zimmerman then became known as the "dead mouse guy" among friends. Joel tried to change his name to "Deadmouse" in an online chat room, but it was too long, so he shortened it to "deadmau5", which is a form of leet.
Joel created the original logo—called "mau5head"—while learning how to use some 3D modelling software. The logo appears in many different colors and designs, and has been shown on the cover of most of Zimmerman's albums, with the exceptions of At Play and Vexillology. He was given the idea to wear a headdress based on the logo by one of his friends, Jay Gordon of the industrial metal bandOrgy. In an interview with CBC Television, Zimmerman said that he wants his logo to be an "icon". Fans often attend Deadmau5 concerts sporting their own copy of the mau5head. He first performed on stage with a mau5head in January of 2008 in Halifax, Nova Scotia.
He created "deadmau5.com" and began uploading songs to SectionZ and producing under the alias "deadmau5" in 2002.
The Walt Disney Company is investigating the mau5head's USTO trademark registration in relation with the Mickey Mouse trademark. As of now, The Walt Disney Company and Joel Zimmerman have "amicably resolved their dispute" over the problem.
Ad blocker interference detected!
Wikia is a free-to-use site that makes money from advertising. We have a modified experience for viewers using ad blockers

Wikia is not accessible if you've made further modifications. Remove the custom ad blocker rule(s) and the page will load as expected.